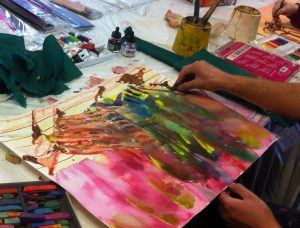 "Art therapy is the application of the visual arts and the creative process within a therapeutic relationship, to support, maintain, and improve the psychosocial, physical, cognitive and spiritual health of individuals of all ages. It is based on current and emerging research that art-making is a health-enhancing practice that positively impacts the quality of life. Art therapists are credentialed professionals who purposively use specific art-based approaches with children, adults, groups and families to support, maintain, and improve overall health, physical, emotional and cognitive functioning, interpersonal skills, personal development, and quality of life."     
 Cathy Malchiodi ~ Psychology Today
Lead by HCPC registered Art Therapists, these classes are available to individuals and groups and operate in blocks of 5 sessions. Sessions are appropriate for individuals experiencing short-term coping and mental well-being challenges including, anxiety, stress, social isolation and depression. Using a range of targeted drawing activities, the aims of these sessions are to:
generate personal insight and awareness
identify and reframe negative triggers
generate workable solutions and strategies
reduce stress and worry
provide a supportive community experience
engage participants in a meaningful and enjoyable creative activity
For more information,  email at info@collective-arts.org with the subject heading 'Art Therapy '.