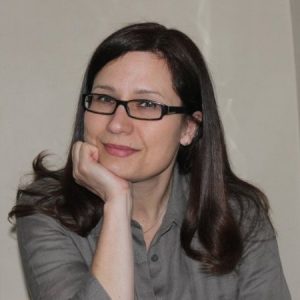 Trained at Canada's University of Toronto, Concordia University and Goldsmiths University of London, Julia is an HCPC registered Art Therapist and founder of Collective Arts. An interest in the links between positive psychology and visual art led Julia to complete an MSc (with distinction) in positive psychology (MAPP). Julia has since published and presented her research at the International Meaning Conference in Toronto and the International Culture, Health and Wellbeing Conference in Bristol.
Over the years, Julia has designed and delivered hundreds of arts for well-being workshops for a diverse range of populations including private and public sector teams, women with cancer, school children, families and individuals with moderate to severe mental health challenges.  Both positive psychology and a deep understanding of the multi-layered language of visual imagery play a central role in all of her project designs.
Julia's other interests include visual image based team-development and training workshops, large-scale community engagement projects (The Community Portrait, currently archived at the Museum of London, included the creative contributions of over 2,000 participants), experimental art exhibitions, pop-up exhibitions, curatorial activities and expressive and therapeutic arts workshops. More recently, Julia has worked as an arts and well-being consultant for a pilot project based at Hampton Court Palace.