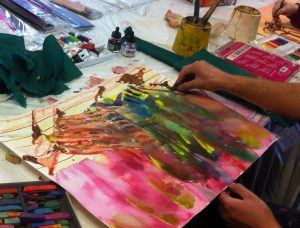 Emerging from evidence-based research, Insight Development Workshops are designed to proactively enhance resilience and mental well-being through the use of visual communication techniques.
Grounded in art therapy, positive psychology and mental well-being theory, this intervention process addresses many of the 'one-size-does-not-fit-all' challenges identified within wellbeing interventions. Insight Development Workshops achieve this by:
responding on an individual and personally relevant level
highlighting and clarifying areas of challenge and opportunity
enhancing insight, awareness and perception
providing a positive and proactive focus
re-framing both personal, academic and work-related issues
enhancing feelings of personal control and capability
Due to the concrete, visual nature of the technique, Insight Development Workshops facilitate group support and collaboration by allowing participants to 'see' challenges and strengths; provide a physical product that can be returned to for later exploration; support the memory and implementation of insight through a 'visual trigger,' and finally equalise communication between participants by introducing a visual-versus-verbal language focus.
Insight Development Workshops are efficient and unlike CBT and Mindfulness training do not require a learned skill to achieve benefits. This intervention can produce notable advances within even a single session and can be enhanced by intermittent 'booster sessions.'