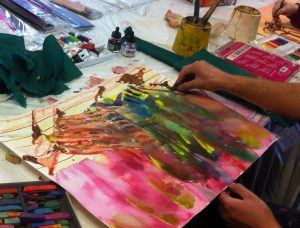 Grounded in positive psychology, art therapy and mental well-being theory, the flexibility of Insight Development Workshops addresses many of the 'one-size-does-not-fit-all' challenges identified within workplace wellbeing interventions.
Using a range of visual communication techniques, these evidence-based workshops are designed to efficiently and effectively,
 respond on bespoke and individually relevant levels
highlight and clarify areas of challenge and opportunity
cue fresh insight
re-frame negative perceptions and work-related challenges
enhance feelings of personal control and self-efficacy
provide role clarification
Due to the concrete, visual nature of the technique,  Insight Development Workshops facilitate group support and collaboration by allowing participants to 'see' challenges and strengths, provide a physical product that can be returned to for later exploration, support the memory and implementation of insight through a 'visual trigger,' and equalise communication between participants by introducing a visual-versus-verbal language focus.
 Insight Development Workshops are efficient, effective and unlike Mindfulness training do not require a learned skill to achieve benefits. This intervention can produce notable advances within even a single session and can be enhanced by intermittent 'booster sessions.'
For more information, drop us an email at info@collective-arts.org with the subject heading 'Insight Development Workshops '.