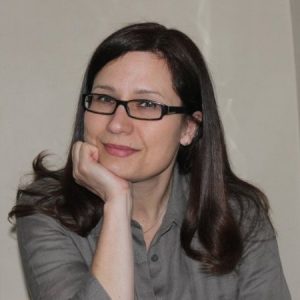 Trained at Canada's University of Toronto, Concordia University and Goldsmiths University of London, Julia is an HCPC registered Art Therapist and founder of Collective Arts.
As an arts and well-being practitioner, Julia uses proactive visual activities to enhance the mental health and wellbeing of both clinical and non-clinical populations.
An interest in links between positive psychology and visual interventions led Julia to the University of East London's MAPP program where she completed her MSc with distinction in 2015. Julia's research explored the outcomes of using Positive Visual Reframing, a single-session intervention where drawn visual imagery is used to shift perceptions of negative memories and experiences. Undertaken with a healthy, non-clinical adult population, the results of her randomised control trial identifies Positive Visual Reframing as an efficient, effective and practical emotional regulation tool.
Julia has presented her research at the International Meaning Conference in Toronto, 2016 and the International Culture, Health and Wellbeing Conference in Bristol, 2017. Her research paper on Postive Visual Reframing was published in peer-reviewed journal, The Annals of Psychology in May 2018.
Over her career, Julia has led a diverse range of creative arts and well-being projects. Her activities include The Community Portrait, a large-scale, community-art installation involving 2,000 participants (currently archived at the Museum of London), as well as numerous art installations, exhibitions, curatorial activities and arts and well-being programs. Julia's activities include work with young people in care, children with special needs, families at risk, young carers, adolescents with severe and moderate mental well-being challenges, women with breast cancer, school children, employees and teams, individuals experiencing short-term coping challenges, and adults with moderate and severe mental health issues.  Julia has many years of experience delivering arts and well-being workshops within a museum and gallery setting. For 11 years she designed and led evidence-based arts and well-being workshops for south-west London-based charity Art & Soul and currently works as an arts and well-being consultant at Hampton Court Palace.