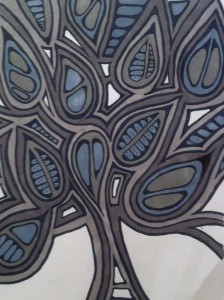 Founded in 1999, Collective Arts is an established arts and well-being organisation based in South West London. Working with teams, groups and individuals, we use positive creative engagement and a range of innovative visual strategies to enhance well-being, communication and strengths.
Influenced by current thinking in the field of positive psychology, our workshops proactively incorporate 3 key elements of successful well-being interventions: meaning, empowerment and enjoyment. By integrating these themes into our sessions, we deliver workshops that effectively address a range of well-being-focused topics including; experiential reframing, positive coping, self-efficacy, resilience and flow. Our positive visual reframing technique is based on the results of a randomised control trial published in May of this year.
Our evidence-based arts and well-being workshops are shown to enhance positive emotions by 29 % and reduce negative emotions by     48 % over the course of a single session. As a positive mood is related to higher levels of mental flexibility, cognitive processing and creative thinking, these workshops can be adapted and designed to trigger a range of beneficial outcomes.
For organisations, museums and galleries seeking to enhance their in-house arts and wellbeing programmes,  Collective Arts also offers a range of consultancy and team-development services.